Minna is a youthful and refreshing face in the Pakistani industry who works as an actress and is providing all the rookies a run for their money. She is the bright and refined daughter of famed Pakistani actress Rubina Ashraf.
Minna Tariq got engaged to Imran Sheikh in a private ceremony in 2021. Minna Tariq's engagement photos with her fiance also went viral. Minna Tariq is now getting married to Imran Shaikh. Minna and Tariq's wedding celebrations began last night with the Maiyoon function. The maiyoon celebration was certainly a celebrity occasion, with celebrities such as Saba Hameed, Behroze Sabzwari, Sadaf Kanwal, and others in attendance. Minna Tariq, dressed in classic yellow maiyoon attire by Farah Talib Aziz, was a stunning bride-to-be. We have selected some lovely photos from Minna's maiyoon for you to enjoy.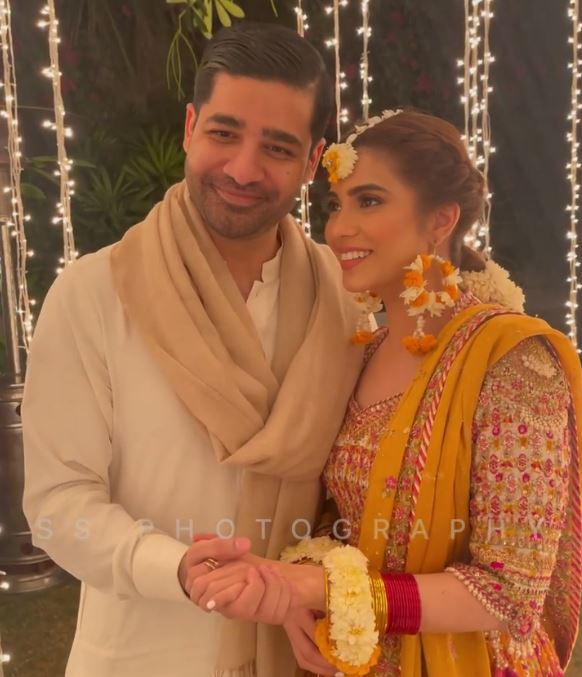 Minna Tariq is a newcomer who appears in Urdu dramas who is stunning. Minna Tariq has a gorgeous face and a captivating demeanor. Minna Tariq is a Pakistani model and actress. Her professional career started in 2011. However, she rose to prominence after starring alongside Sana Javed in the play Ruswai. Wardha was her character in the drama.  In addition to acting, Minna Tariq has worked on various fashion ventures for textile businesses. She enjoys traveling and having pets. One of her favorite pastimes is socializing with her friends.
Minna Tariq comes from a long lineage of artists. Her mother is a well-known television actress. Her father's name is Tariq Mirza, and he works as a merchant. Nawal Tariq is Minna's younger brother. She was born in Karachi, Pakistan, on November 5th. She graduated from the University of London with a bachelor's degree in Film, Television, and Music.
It would surprise many of you to learn that Minna Tariq is the daughter of a well-known Pakistani actress. Rubina Ashraf, Minna Tariq's mother, has worked in Pakistani shows for many years. Minna Tariq's mom is not only a superb actress but also a well-known drama director and producer. She's been nominated for the Lux Style Awards for Best TV Director on two occasions.
Minna debuted in the drama profession in 2011 with her role in Vanee. Minna then took a hiatus to complete her studies in film, television, and music in London. She returned to the showbiz scene in 2019 and starred in the drama Ruswai. In which she gave her all in her portrayal of Warda and won appreciation from the audience. Minna Tariq has blossomed into a fantastic actor. We want to see Minna in a leading role in a drama soon. Minna Tariq is now starring alongside Komal Meer, Shazeal Shoukat, and Noor Hassan in the drama series Benaam. Ary Digital is currently showing the drama "Benaam." Her Instagram handle, Minna Tariq, has over 121k followers.